Private Cloud Mobile
Acuity CAD Mobile is the newest QED app, which makes CAD and RMS data more available to first responders in the field. Designed to run exclusively in a web-browser, Acuity CAD Mobile will operate on any device that runs one of the many supported web browsers. Android Tablets and Smart Phones, Windows Tablets and Smart Phones, iPhones, iPads all run the Ac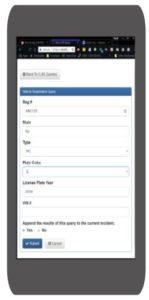 uity CAD Mobile apps with their native browsers.
Security is built-in on multiple levels. First, logins are required and only users registered as on-duty in the CAD system can log into the system. Next, all data in transit is encrypted using your agency's security certificate. Third, there is no data stored on the device, all data is stored on your in-house server. Forth, lost or misplaced devices can be quickly disabled remotely. Lastly, all transactions are logged on the server as they happen and are available for later recall and review.
Private Cloud Mobile offers flexibility in allowing users to design and run Acuity Quick Searches. This allows custom access to information in the agency database based on the user's security level. Private Cloud Mobile can provide customized information for the type of unit using it.